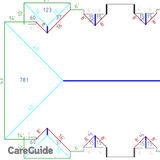 Intex Builders I
Free Online / Emailed Roof Replacement estimates!
Roofer in Tampa, Florida
Are you tired of the unnecessary scheduling and "dog and pony show" of in home sales presentations just to get a quote or budget number for a re-roof estimate. . .? I am employed by a state licensed local roofing contractor and USF Bull "Fast 56" awarded roofing and construction company offering... Free Online / Emailed Roof Replacement estimates! We use online satellite imagery to review your roof dimensions to generate information to help you budget for a new roofing application with our company. I personally have over 8 years of experience estimating and managing residential re-roof, light commercial re-roof work, and multifamily housing re-roof and renovation projects. My process is simple. . . If I can get a clear shot of your roof via our satellite program then I can provide budget numbers for a roof replacement. Contact Mr. Roofer Brad to be emailed a free estimate to replace your roof with a Compliance Depot Certified, State Licensed, Insured and highly referred contractor team at Intex Builders, LLC of Carrollwood. Please only Hillsborough, Pasco and Pinellas Counties. In home consultations can be scheduled if requested. Please allow a 72 hour turn around to get a free quote. Estimates to be only provided to property owners please. Investors or Realtors® looking for quick quotes and a reliable contractor...? Contact me before you pull the trigger on a can of construction worms! "I buy houses too!" lol Did you know that most major shingle manufacturer "lifetime" shingle warranties have a kick out for wind speed up lift and adhesion that stops at year 15. . .. And you thought you had a "lifetime roofing system"... Free Online / Emailed Roof Replacement estimates!
Share This Profile
Find Roofer in Tampa, Florida