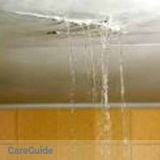 Darryl B
REAL QUICK ROOF REPAIRS , ready when you need .
Roofer in Atlanta, Georgia
I am Darryl Bales , I am the last Roofer of a family of Roofers that's still here in Cabbagetown. ROOFING REPAIRS - WE WILL STOP YOUR LEAKS @ A FRACTION OF WHAT THE BIG COMPANIES CHARGE. WE HAVE BEEN REPLACING ROOFS FOR OVER THIRTY YEARS & WILL PUT AN END TO YOUR LEAKS, THERE IS A $45.00 ROOF INSPECTION FEE & THIS WILL GO TOWARDS THE TOTAL REPAIR. WE CAN DO SAME DAY REPAIRS IF THE DAMAGE IS NOT TOO EXTENSIVE. - CHIMNEYS CAN LEAK - VENTS CAN LEAK - SHINGLES CAN LEAK AND WE CAN PUT A STOP TO THIS! IF YOUR SHINGLES ( WHAT'S LYING OM UR ROOF) ARE OVER DRIED THIS WILL SHOW BY BEING BUBBLED UP & CRUMPLING, U DON'T WANT TO STEP ON THIS AGING ROOF BECAUSE YOU CAN DO MORE DAMAGE . PLEASE CALL BEFORE 11PM & AFTER 8AM EST. PLEASE GIVE US A CALL & WE WILL GET OUT TO U AS SOON AS WE CAN !
Recommendations
Tiny Wright
Darryl Bales has re-roofed & installed skylights on one of my existing properties, the roof is still in real good condition. I would go to Mr. Bales for any of my properties for waterproofing advice and or repairs. Tiny Wright.
Share This Profile
Find Roofer in Atlanta, Georgia