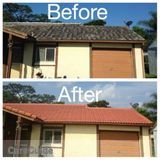 Roof Rite R
Restore Your Old Roof And Save 70-80% Off The Cost Of A New One!
Roofer in Dover, Florida
Roof Rite Restorations by Liqua-Roof services all of Florida's most populated area's. Our customers save on average 70% or more off the cost of a new roof. Liqua-Roof is a spray applied roofing system which restores and extends the life of your current roof. It can be applied to all types of surfaces, including Shingle, Tile, Metal and Flat roofs. Liqua-Roof has been saving home/property owners 75-80% the cost of roof replacement with our proven advanced technology Roof Reconditioning/Refurbishing! 10-20 year Warranties! Contact us today for free, no cost estimate! www.....com 813-444-...
[email protected]
Share This Profile
Find Roofer in Dover, Florida