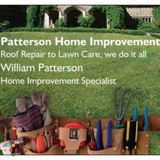 William P
Roof Leak? I Can Find It & Fix It"
Roofer in Phoenix, Arizona
Does your roof have a leak? Do you need to fix your roof? Do not spend THOUSANDS of $$$$$$ for a roof replacement. Call the LEAK GURU. I WILL find your leak, fix your roof, and SAVE YOU $$THOUSAND$$ I have over 10years of experience in the roofing industry and can repair just about any roof. I am a certified Tile installer and a Shingle MASTER applicator. I can repair your roof and save you money. I worked for the BIGGEST companies in AZ and I use the same materials they use and give you the same if not BETTER QUALITY work they give. My overhead is a lot smaller so I am able to charge a lot LESS then they do. Call PATTERSON HOME IMPROVEMENTS for your FREE ESTIMATE TODAY William Patterson 480-307-...
Share This Profile
Find Roofer in Phoenix, Arizona